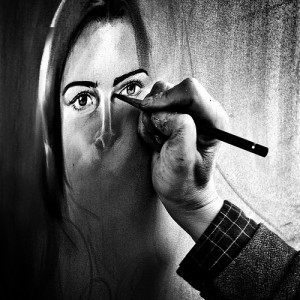 The many ways that artists are gifted does not serve to prove that artists are without their weaknesses. Artists can be a difficult group of people, no more so than any other demographic, but in a way that sends many unlike minds running for the hills. It can be very hard to be close to an artist because they think so differently from the average person. Some of their common and less desirable personality traits are neurosis, self absorption, moodiness and disorganization.
Neurotic artist. The stereotype of an artist with a personality made up of quirks and idiosyncrasies carries a lot of truth to it. Artists are not only creative in their work, they are also creative in other elements of their life. While this is why they are appreciated, artists certainly meet their share of disapproval for their "weirdness" and it often becomes a complex, as well as a part of their identity, to be odd, idiosyncratic and a little or a lot neurotic.
Self absorbed artist. Self absorption is a frequently noted character trait among artists. This quality is developed in artists largely due to the nature of art creation. Artists are different people when they are absorbed in an important work. They are of very singular and focused mind, and their art is all that matters to them in the world. Unfortunately, this tendency of artists to think that their own endeavors are all that matters extends to their personal lives and tends to damage their personal relationships to a degree.
Moody artist. It is very common for artists to have intense mood fluctuations, if not full on mood disorders. Artists are sensitive by nature and can be prone to dramatic shifts in mood without any warning. Because artists are passionate people, they can also exhibit very passionate, volatile emotions.
Disorganized artist. One of the most universal complaints about artists is that they are disorganized people. Anyone who has lived with an artist knows that they tend to have very messy personal space. While this is an inherent part of their psychology, it can become disrespectful when it is not kept in check.